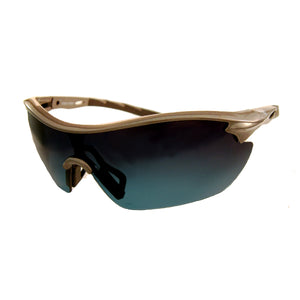 Vision Prescription Sunglasses
Tennis players wear prescription too. Solar Bat did not forget the prescription wearing tennis player. Lens tint is the same Leverage Tennis Performance tint as in the Victory Vision and all other Leverage Performance Tennis sunglasses. The wearer's prescription is mounted in an insert frame that snaps into the backside of the sunglasses. The prescription insert is available in distance only.  Surge ahead of your competition with prescription eyewear that focuses on extreme, unparalleled visual clarity.
Features:
FRAME FEATURES: Half rimless one-piece lens with black TCG temple inserts and loop nose pad for extra grip. Temples tilt to adjust frame top bar away from the brow.
FIT GUIDE: Medium to Large with Average to Wide Nose. Also available with a prescription insert.
EYE SIZE: 177 mm one-piece shield style lens
Either email a copy of your prescription to mandyshepherd@solarbat.com or text a photo of your prescription to 812-240-2783.