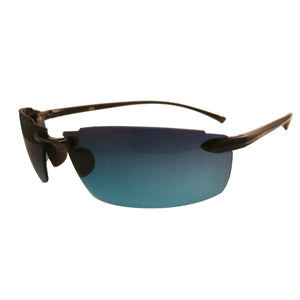 Solar Bat Sunglasses did it, again!  Years of field testing and seeking assistance from tennis pros and instructors led to the Victory 40's creation.  Men around the world trust the Victory 40 for their outdoor tennis needs.  Because tennis is such a visually demanding outdoor activity, only the best tennis sunglasses can be trusted for performance enhancement, eye protection, style, and comfort.  The Victory 40 delivers all of that - and more!  Each frame is made of TR90, which is extremely durable. Additionally, each frame features TCG nose pads for less sunglass mobility (decreases the instances of sunglasses slipping off while playing tennis).  Solar Bat Sunglasses specializes in outdoor performance enhancement eyewear, and the Victory 40 is designed for enhancement all your tennis activities!

Victory 40 Features
FRAME COLOR: 

Shiny Black or Shiny Tortoise
FRAME FEATURES: 

Three-point rimless with TCG nose pad for extra grip.
FIT GUIDE: 

Medium to Large with Average to Wide Nose
EYE SIZE: 

82 mm full rimless
Victory 40 - Lens Tint Variations
PNVX LEVERAGE™ PERFORMANCE TENNIS TINT : Double Gradient Tint to improve court level vision of the ball and out-of-bounds lines with a gray tint in the top to reduce light transmission when looking upward into the sky.  Gray top 25% of lens has 12% light transmission with Aqua in the bottom 75% having 28% light transmission.

Victory 40 Tennis Sunglasses for Men
Tennis is an extremely difficult sport.  The required mobility and reaction time needed for success are rather amazing.  What if you, a novice or experienced tennis player, could improve your reaction speed by improving your court vision and tennis ball awareness?
Solar Bat Sunglasses
designed and field tested multiple tennis sunglasses that aim at performance enhancement.  Tennis players looking for high quality non-polarized sunglasses that help with tennis court vision and feature a darker tint for looking toward the sky or sun love the 
Victory 40
.  The Victory 40 allows the wearer to experience comfortable visually enhanced eyewear that is designed for extreme movement-related activity.  These sunglasses, unlike many tennis sunglasses, will not slip and slide off the tennis player's face. Tennis instructors, tennis coaches, and professional tennis players tested the Victory 40. It quickly became popular tennis eyewear for men around the world.  Recreational tennis players and competitive tennis players who want better court vision and improved eye protection rely on the Victory 40 for their tennis matches and tennis practice.
Solar Bat Sunglass customers may also choose from two additional tennis sunglass models: Victory 34 and Victory Champion.